Informative Display
Published on December 11, 2017 by Goodwin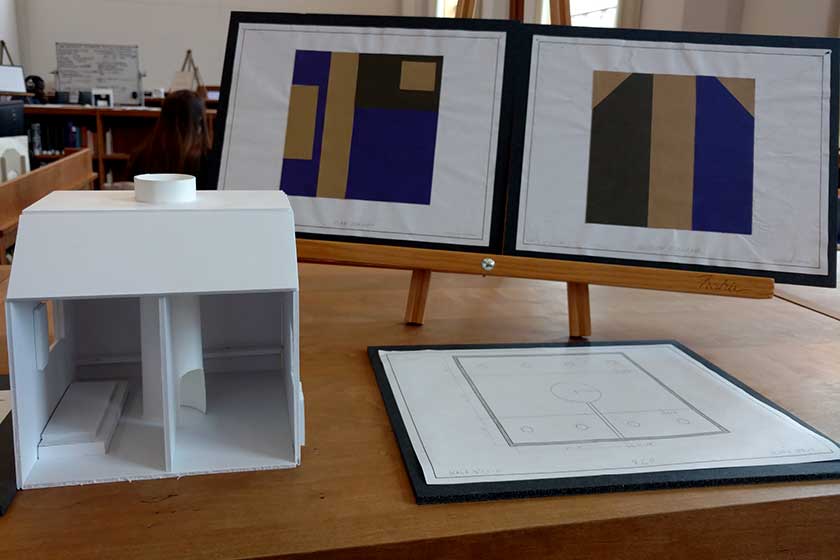 Samford Diversity Development Grant
Office of Diversity and Intercultural Initiatives
Select projects are on display from Design Fundamentals I, IARC 251, in the library. The projects are supported by a Samford Diversity Development Grant.
Design Fundamentals I, IARC 251
Department of Interior Architecture
Text by Preston Hite, AIA, NCIDQ
Associate Professor, Department of Interior Architecture
The projects displayed were created by second-year students in the Department of Interior Architecture. The students were introduced to some of the key events of the Civil Rights Movement in Birmingham, Marion and Selma between 1963 and 1965, with a focus especially on the events surrounding the voting rights marches of February and March 1965, and on the nearness of these events to the history of Samford. The students visited the sites of the events and heard from people who participated, responding to these experiences through both representational and emotive abstract sketching.
The students then designed a twelve-foot-by-twelve-foot space meant for reflection and introspection, where people would connect with the moral and spiritual foundations of the struggle. The space is imagined to occupy the northwest corner of the Selma Times-Journal Building, overlooking the Edmund Pettus Bridge and the Alabama River. The scale models, drawings and diagrams here show the students' designs for this reflective space, accompanied by a short written description for each. You are invited to join in the reflection and exploration on the Civil Rights Movement that the designs invite.

Please visit the library to view the complete exhibit.
Marking Memory through Principles of Form & Space
Exhibit Dates: December 6–16, 2017

Location: 2nd floor, Hundall Library Reading Room, Samford University Library

Design Fundamentals I, IARC 251
supported by a Samford Diversity Development Grant
12 models with informative text, drawings and diagrams