The University Library will be closed Monday December 11 due to utility work. For assistance call 205-726-2196 or
Contact Us online
. We reopen Tuesday, December 12 at 7:30 AM.
Search Samford Libraries Catalog
Use Advanced Keyword Search for more options
If you are looking for a Government Hearing, Add Limit for Material Type: Government Hearing on Advanced Keyword Search
There are a variety of ways to find government information.
The Samford Libraries Catalog searches everything cataloged by the University Libraries including goverment documents in print, microform, media and online.
To limit before search, in Samford Libraries Catalog, go to (More Searches) dropdown on top right and select Advanced Keyword.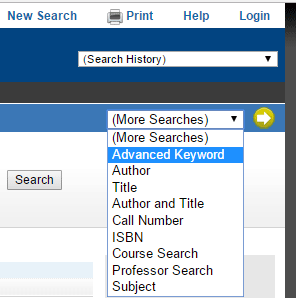 Click green arrow

To limit after search, in Samford Libraries Catalog, go to top center, click Modify Search.

Your search terms have been copied to the Advanced Keyword Search form. Add Limits (Optional) including Location, Material Type and/or others.
Search Google and Other Portals
Google
Add "site:.gov" to your search

USA.gov
The U.S. government's official web portal

Science.gov
Gateway to science information

Search HeinOnline
HeinOnline Fully searchable, .pdf library of archival legal documents, from 1700s - present; includes Law Journal, Federal Register, Treaties and Agreements, and U.S. Supreme Court collections.
Why would you need a government document?
If you need a Public law or act, Primary source, or Statistics.
Or if you have a hot topic, one of these might supplement your research: Congressional hearing, Relevant agency or department document or findings.