Samford's libraries provide access to more than 150,000 ebooks which include Government Documents.
Search from our Homepage
Select the Catalog tab on library.samford.edu and use the search box.

The Samford Libraries Catalog searches everything cataloged by the University Libraries (books, videos, recordings, journals by title, etc.) but not individual articles.
After searching, on Results page, in the left "Refine By" column, choose E-Book from the Format facet.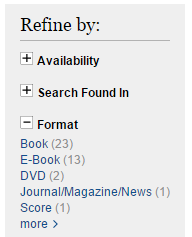 If E-Book is not visible under Format,
click "more" (Only the five top formats are displayed.)
To limit before search, use Advanced Search form and change Format: to eBook

Search Samford Libraries Catalog
Note: on Results page, use Format facet under Refine by and select eBooks to limit
Use Advanced search form for more options
Search full text of Samford's eBooks
Ebsco eBook Collection - Full-text access to more than 72,000 electronic books.