The University Library will be closed Monday December 11 due to utility work. For assistance call 205-726-2196 or
Contact Us online
. We reopen Tuesday, December 12 at 7:30 AM.
Give to the Samford University Library
Shop Online
Support the Samford University Library by shopping Amazon and a few select online stores. The library receives a small commission if you shop using the links below. Select one to start shopping.
Give Resources
Please see our Gift policy about donating materials. If you would like more detailed information about donating materials, please call or email the library's Collection Management librarian.
Give Online
Please use the following Samford University Advancement Give Online form, Give Now.
Give Today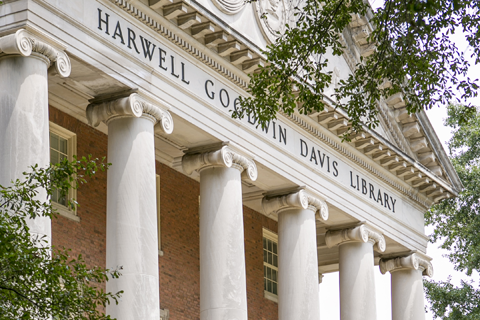 Please note: Designate your gift fund as "Davis Library Gift Fund" to support the University Library. If you are contributing to honor or memorialize someone, please enter their name in the appropriate field. Gifts to Samford University are tax deductible in accordance with Internal Revenue Service regulations. All gifts are receipted.
Other Monetary Gifts
Mail
If you prefer not to donate online, please send monetary gifts to the Samford University Advancement Office
Make checks payable to "Samford University," write fund of your choice in the memo line, such as "Davis Library Gift fund", and send to:
Samford University
University Advancement
800 Lakeshore Drive
Birmingham, AL 35229
Legacy
Some donors who are in a position to demonstrate ongoing financial assistance find it more convenient to establish a long-term endowment. The library benefits greatly from endowments in support of library resources. To obtain more information about creating an endowment, please call or email University Advancement Officer.
All gifts may be given in honor of or in memory of a person of your choosing.
Visit Samford University How to Give for more information from University Advancement.
Academic Programs
By making a gift toward academic programs, students and faculty have access to more resources to enhance our Core Curriculum. Our goal is to purchase JSTOR Arts and Sciences VIII, V and XI. We also desire to purchase Life Sciences and an Anatomy database as we enhance research in STEM.
Places and Spaces
Student Commons Learning Spaces
The library is often described as the "hub of a university" and at Samford, Harwell Goodwin Davis Library is literally at the center of campus. Being an original 1957 campus building, we need your help to improve and maximize our learning spaces.
The library has seen change and growth as new programs have been added and more students and faculty join us at Samford. We are a place on campus for learning and collaboration for undergraduate and graduate programs. Through renewal and creation of spaces we will be able to support the various learning styles students and faculty engage in daily.
Special Collection
University Archives
The Elizabeth Wells Special Collection and Archives Endowment was created in 2016 to honor Mrs. Elizabeth Crabtree Wells, the Chair of Special Collection and Archives for more than 40 years. By supporting this fund, you help preserve the rare pieces of Samford University and Alabama Baptist History stored in Special Collection and Archives.
Solid Foundation
Davis Library Gift Fund
The University Library uses these funds for enrichment opportunities for students and faculty mentors to provide academic program resources where the needs are greatest. These gifts promote excellence and enhance library education and research.