Search Samford Libraries Catalog
Search everything (books, course reserves, videos, recordings, journals by title, etc.) but not individual articles
Special Collection Database
Searching Tips
Use quotation marks " " to search for phrases as well as connecting phrases with the word AND.
For example, try searches similar to the following:
"Howard College"
"East Lake" and Howard
Search Alabama Baptist Index
Partially Indexed by Samford University; 1843 to present
For Publication date (Pub Data), use format: 1984/09/13
Book your appointment
Researchers are welcome in accordance with Campus Protocols.
Samford Guests, those not a current student or employee, need an appointment for access to materials. Guests should contact Special Collection prior to making an appointment. Desired use, assistance, and access to resources are not guaranteed.
Treasures in Special Collection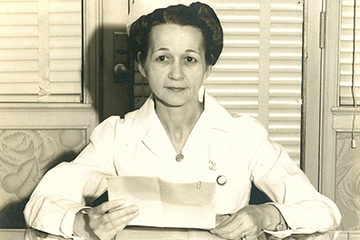 Ida Vines Moffett
Nursing in Alabama cannot be discussed without mentioning Ida Vines Moffett. For more than 70 years, Ida V. Moffett was a practicing nurse with a passion for patient care and an unyielding advocate for nursing education. Treasures