The University Library will be closed Monday December 11 due to utility work. For assistance call 205-726-2196 or
Contact Us online
. We reopen Tuesday, December 12 at 7:30 AM.
Informative Display
January 16–February 26, 2018 by Samford Library Media Team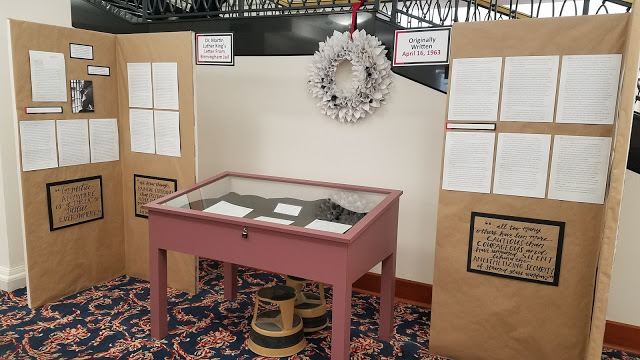 Dr. Martin Luther King Jr.'s "Letter from Birmingham Jail" is considered to be one of the most important texts of the Civil Rights Movement. In observance of Black History Month, and in celebration of Samford University's 50th anniversary of integration, the library is proud to display this letter in its entirety on the 1st floor of the library near the Circulation Desk now through February 26th.
This display incorporates enlarged reproductions of an original copy of the letter which is housed in the library's Special Collection. This copy was given to the library as part of the papers of Dr. George Bagley. It is not known how Dr. Bagley obtained the letter. However, at the time of the Birmingham Campaign in 1963, Dr. Bagley was the Executive Secretary-Treasurer of the Alabama Baptist State Convention so it is likely he received it while he was serving in this role.
Dr. King began writing the letter on the edges of a newspaper while in the Birmingham jail. The notes were smuggled out to Wyatt Tee Walker, Executive Director for the Southern Christian Leadership Conference, and his secretary, Willie Pearl Mackey. It was Mackey that took the scraps of notes and typed the first drafts of the letter. The typed copy concludes with the initials of MLK:WM noting the letter's author and the woman who typed it.
The library's copy of the letter will also be featured as part of an interview with Ms. Mackey in "Martin Luther King Jr.: One Man and His Dream," a new BBC documentary on Dr. King observing the 50th anniversary of his assassination. This documentary is scheduled to air in the U.S. on the Reelz network on April 1st at 9pm ET/ 6pm PT.
Letter from the Birmingham Jail
Exhibit Dates: January 15–February 26, 2018

Location: 1st floor, west side of the grand staircase, Samford University Library

21 - 11x17 pages
4 quotes in calligraphy, artist Jordan Hughes
repost from samfordlibrarynews.blogspot.com/2018/02/mlk-birmingham-jail-letter-display.html