The University Library will be closed Monday December 11 due to utility work. For assistance call 205-726-2196 or
Contact Us online
. We reopen Tuesday, December 12 at 7:30 AM.
Overview
The Davis Library Conference Room, DALIB 233/234/235 COMBO, and its individual component spaces are available for use during normal library operating hours to any Samford University group excluding regularly scheduled classes. Each component space includes a fixed whiteboard, adjustable lighting, tables and chairs. There is one podium. A/V capabilities are only accessible from DALIB 233. Since individual component spaces may be reserved, if you need audio and video sytems please include DALIB 233 in the reservation request in SPACES.
Reservations
A group may reserve a conference room for an extended period; however, the Dean's office reserves the right to reschedule the room for certain occasions. The group's leader will be given at least one week's notice. Please review the general guidelines prior to requesting this space.
Reserve online in Samford's Planning and Calendaring Event System SPACES
Use location code: DALIB 233/234/235 COMBO or its individual component spaces.
Occupancy
DALIB 233/234/235 Combo
Max Capacity - 54
DALIB 233
Max Capacity - 16
DALIB 234
Max Capacity - 18
DALIB 233/234
MAX CAPACITY - 36
DALIB 235
MAX CAPACITY - 18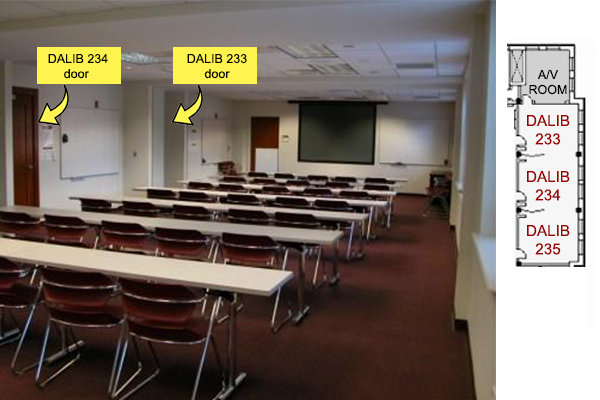 Equipment
Conference Room DALIB 233 is equipped with audio and video systems suitable for group meetings. Wireless microphones are available for both hand-held and lapel use. The ceiling-mounted projection system supports computer and video projection. A VCR/DVD player is provided for viewing. A computer is not provided but wall connections to the systems are easily accessible for use with your computer. Wall connections include: HDMI and VGA. Computer network connection is available. If your use of the conference room requires use of any of this equipment, this must be noted at the time of your reservation so that proper arrangements can be made.
Conference Rooms DALIB 234 and DALIB 235 do not have access to audio and video systems.
General Guidelines
Pick up the key at the circulation desk. DALIB 233/234/235 COMBO is located on the second floor (maps).
Plan to arrive in time to arrange the room to your specifications. The chairs and tables are easily moved. It is not necessary to return the furniture to its original position.
For temporary signage, use post-it notes or announcement frames supplied by the library. Do not use any kind of tape on walls or doors.
Activities should not generate noise that will disturb library users. If a large group is entering or exiting at the same time, encourage them to observe normal library guidelines for quiet.
Use the trash cans provided and leave the room in a usable condition. (A cleaning fee may be charged if the room is left unfit for use.)
Lock the door(s) when finished and return the key to the Circulation Desk.