The University Library will be closed Monday December 11 due to utility work. For assistance call 205-726-2196 or
Contact Us online
. We reopen Tuesday, December 12 at 7:30 AM.
Special Collection Treasures
Published in May 2005 by Jennifer Taylor
Birmingham was founded in Jones Valley in 1871, fifty-two years after Alabama became a state. It was formed at the proposed crossing of two railroads, the Alabama & Chattanooga and South & North railroads. In December of 1870, Josiah Morris purchased 4,150 acres of land at the proposed crossing and along with other investors formed the Elyton Land Company. Within a few months, a city was born out of the coal, iron and rich minerals which had brought the railroads through the valley. Several suggestions were made for the name of the new city such as Mudd Town, Powellton, Milnerville, and Morriston. James R. Powell who was elected President of Elyton Land Company, had recently visited the United Kingdom. It is believed that it was Powell who suggested the name of Birmingham because of its similarities to the industrial city in Great Britain. Powell, who became known as the Duke of Birmingham, is also credited with dubbing Birmingham "The Magic City" because its rapid growth into a thriving city.
Below is an early photograph of Birmingham taken in 1873 by A.C. Oxford from the top of the Courthouse.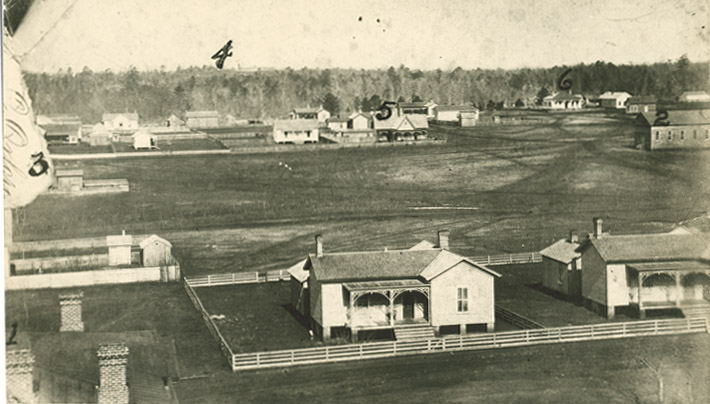 Resources
Atkins, Leah Rawls, The Valley and the Hills: An Illustrated History of Birmingham & Jefferson County. Windsor Publishing, Inc. 1981.
McMillan, Malcolm C., Yesterday's Birmingham, E. A. Seemann Publishing, Inc. 1975
Ragan, Larry, True Tales of Birmingham, Birmingham Historical Society, 1992.