The University Library will be closed Monday December 11 due to utility work. For assistance call 205-726-2196 or
Contact Us online
. We reopen Tuesday, December 12 at 7:30 AM.
Special Collection Treasures
Published in May–June 2006 by Jennifer Taylor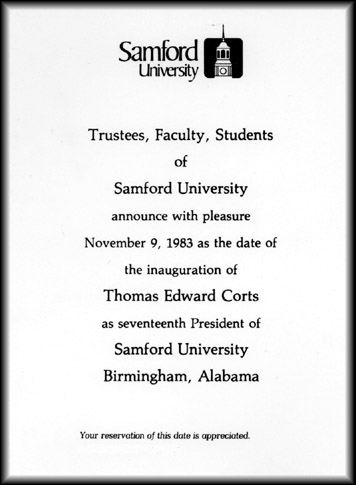 This is a transcript taken from the video recording of the inauguration.
Samford University, November 9, 1983
This is a wonderful occasion and I am deeply indebted to all of you who have chosen to share it with us.

I recognize that there are a lot of college and university delegates here who have many very important things to do. I recognize all of you have great responsibilities and you would think enough of this great university that you would be here today is indeed a splendid tribute.

I recognize also that there are many emotions that a person feels on an occasion like this. I certainly have a deep sense of humility. It's really hard to be proud at a moment like this because one does recognize a deep sense of roots, a sense of consciousness, a consciousness from whence he has come. And if I could trace back far enough, I would go back beyond Johann Carl Christian Corts who came here in 1862, departing Hamburg, and found his way in a new land. I recognize also that this meeting could probably go on too long without too much effort, and so I'll try to be very thoughtful of that limitation and to respond quickly.

It occurred to me as we stood outside waiting to come in that this was probably my last good chance whether I wanted to ask for a raise or anything else. This was probably the best time to do it. I'm not sure why but I think that's why they put me at the end of the line and Mr. Brown at the head of the line.

This is a great institution. I have found it to be greater in many respects than I even imagined. I have carried for many years a respect for it and its former president, and I recognize keenly that we build upon the foundation that has already been laid. I am very aware of the fact that there are many whose names who we cannot recite, many whose records have long been lost, without whom this institution would have folded. It would not be here today.

I look out over the sea of faces and I see people who give and who give generously. Without their gifts, this institution probably would not exist or be a mere shadow of what it is, and I recognize a great partnership in the cause of this great institution.

It is also my awareness that I can not bring a satchel full of tricks, a grand plan, something to be unfolded, readily announced, soon implemented, and then to sit back and watch with pleasure a new era. But rather, I understand that this is a deliberative process. In that by representing the best interests, the hopes and dreams, the prayers of each one of us, this great group process results generally in what is best.

Now I am no stranger to dissonance. I have often thought about the fact that all of us live with dissonance, disharmony of some sort. I have remembered that about age five or six, we used to play sandlot baseball in the little corner of the town in which we grew up. I can remember going out there to watch my older brothers play and I chased the ball when it was hit over the fence. And wondering there, why it was that my brothers, who lived very straight and upright lives, could not hit the ball as far as another fella in the neighborhood, who used excessive profanity, never darkened the door of a church and didn't seem to be one of God's children. At a very early age I decided that there was a great disparity between what I thought God ought to do in this world and what He did. And I have been living with that dissonance, at times easier to accept than at others, but recognizing surely that God is God, and we see through a glass darkly but someday face to face.

I recognize also that there is a tremendous gap between my own best intentions and what I can accomplish. On more days than I care to remember, I have set out to do a long list of things to get done, only to realize at the end of the day that I never really got started on the list. And it creates a kind of dissonance and inward stress and tension within which one can live only for so long.

I have a lot of dreams and hopes. I have places I want to go, people I want to meet, experiences I want to enjoy, milestones to pass. But, I recognize that probably when it is all over and the lights are out, I will not be living with anything other than a certain degree of that dissonance. But I also recognize that I am temporary and that I only go around one time. And in that one time, I want to make a commitment to reduce the dissonance, the distance, the disharmony between that sense of excellence, the possibility, that hope that is held out there for a great Christian university, such as this. And I want to reduce the dissonance, the distance between what I see and what many of you see and have shared with me in what we hope and dream for and the reality that is here.

The best has not yet been, it is yet to be, and that is the finest tribute we can make to all of those who have been a part of the illustrious past of this place- so idyllic in setting, so exciting in context, so fraught with possibility. And so to that end, to that reduction of dissonance, in a world torn apart by hatreds, in a community that is growing and building, among scholars who seek for truth, God's truth, through countless avenues; to the reduction of dissonance, the distance, the disharmony between people who care, people who love, people who intend to make a difference in the world, I pledge myself.

In the front of the little diary or daybook that I carry, I have written Richard Chestershire's little prayer, "Day by day, dear Lord, of these three things I pray - to see Thee more clearly, To love Thee more dearly, To follow Thee more nearly, Day by Day."

I promise you that is my plea and my prayer. I thank you.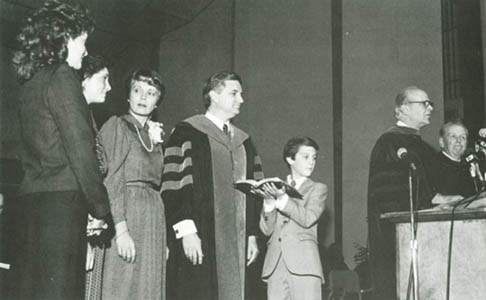 Resources
Corts, Thomas Edward; Speech at Inauguration November 9, 1983, Samford University Library, Birmingham, Alabama. SC 5306.
Highlights of the Corts Era, Samford University Communications.
Presidents; Corts, Thomas - Inauguration, Samford University Library, Birmingham, Alabama. Samford V/F.
Samford University, Entre Nous, 1984.