The University Library will be closed Monday December 11 due to utility work. For assistance call 205-726-2196 or
Contact Us online
. We reopen Tuesday, December 12 at 7:30 AM.
Special Collection Treasures
Published in March–April 2007 by Jennifer Taylor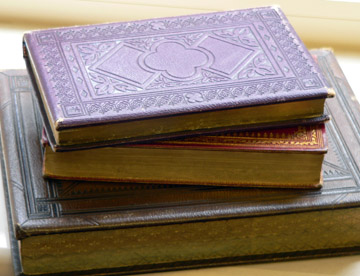 A fore-edge painting is a watercolor design painted on the edge of a book. The design is usually only visible when the pages of the book are fanned out. The beginning of fore-edge painting can be traced back as early as the tenth century. The Special Collection department at Samford University has three paintings of this type.



Resources
Montgomery, James, Poems of James Montgomery, London, New York, Routledge, Warne, & Routledge, 1860
Tennyson, Alfred; Enoch Arden, London, Edward Moxon, 1864
Tennyson, Alfred, Poems, London: Edward Moxon & Co., Dover Street., 1865
Weber, Carl Jefferson, Fore-edge Painting, a Historical Survey of a Curious Art in Book Decoration. Irvington-on-Hudson, N.Y., Harvey House, 1966