The University Library will be closed Monday December 11 due to utility work. For assistance call 205-726-2196 or
Contact Us online
. We reopen Tuesday, December 12 at 7:30 AM.
Special Collection Treasures
Published in July–August 2007 by Jennifer Taylor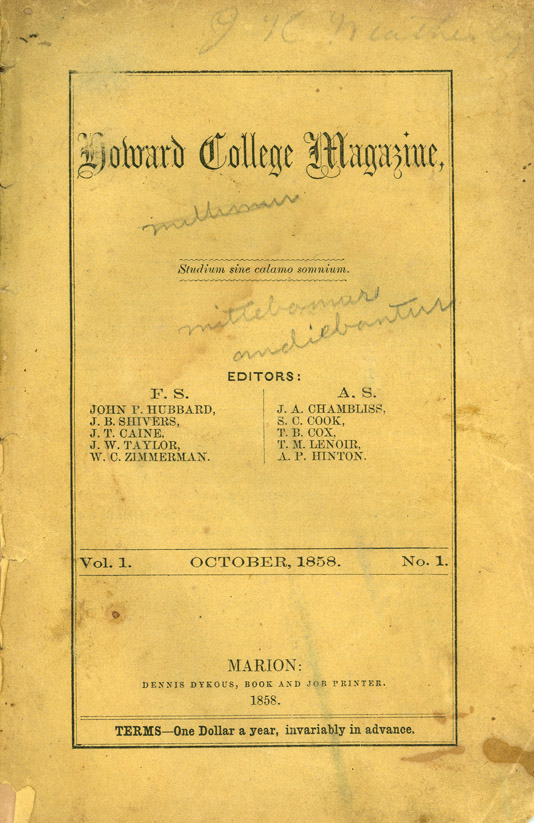 Soon after the founding of Howard College two literary societies were formed, the Adelphi and the Franklin. In 1858, the students of the two societies jointly published the Howard College Magazine. The first issue was released in October of that year. The magazine was to be published monthly during the school year and was available by subscription for one dollar.
The students offered the following reasons for beginning the magazine. "The first, though purely selfish, is not, we humbly conceive, disreputable. It is our own improvement as writers." The second was, "to increase the libraries of the two Literary Societies connected with the College." Four years earlier, a fire had destroyed much of Howard and the library had been lost. The final reason offered by the students was, "Pride- a pride which every college boy can well appreciate- prompts us to this movement. Laugh, if you will, reader, but there is something of importance connected with the idea of a Magazine issuing from a college. We imagine,- but we may be affected with a distemper like that of an ancient knight, whose exploits were a parody on all true chivalry- still we imagine that it adds somewhat of dignity to an institution that its students should send abroad a literary periodical of such character as we hope to acquire and maintain for ours."
In the first issue of the magazine, President Talbird published a letter to the students that stated, "I am convinced that such a periodical well and efficiently conducted, will be greatly promotive of the primary object of your connection with this institution. It was remarked, by Lord Bacon, that 'reading makes a full man, speaking a ready man, and writing an exact man.' Allow me to call your attention to the fact that in furnishing the matter for your contemplated Magazine those three sources of improvement will be opened to every student of Howard College."
It is unsure, if the magazine was continually published as the students had planned. The April 11, 1861, issue of the South Western Baptist states that "the Howard College Magazine for March sustains its well earned reputation." However, this may have been the last issue of the Howard College Magazine published due to the outbreak of war.
Resources
Garrett, Mitchell Bennett, Sixty Years of Howard College, 1842 - 1902.
Howard College Magazine, October, 1858.