Special Collection Treasures
Published in January–February 2008 by Jennifer Taylor
The 1912 Entre Nous, states the "Baptist Tigers" were able to hold the "Thin Red Line" to one touchdown in the first three quarters of the season's opening game against The University of Alabama.
It was not until December of 1916 that Samford, then Howard College, adopted the bulldog as its official mascot. In a two to one vote, the student body chose the "Crimson Bulldog" over the" Baptist Bears."
December 14, 1916 edition of the Howard Crimson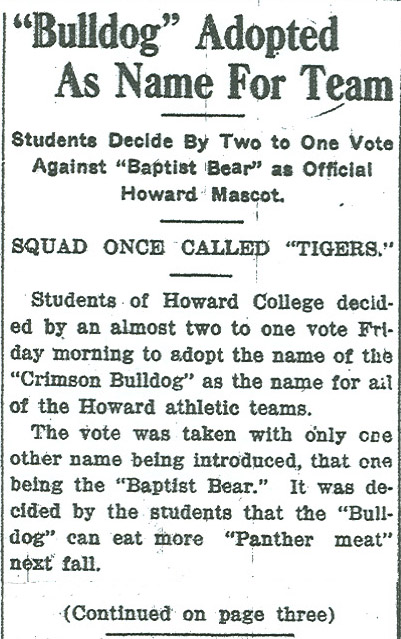 HEADLINE: "Bulldog" Adopted As Name for Team
Students Decide by Two to One Vote Against "Baptist Bear" as Official Howard Mascot.
SQUAD ONCE CALLED "TIGER"
Students of Howard College decided by an almost two to one vote Friday morning to adopt the name of the "Crimson Bulldog" as the name for all of the Howard athletic teams.

The vote was taken with only one other name being introduced, that one being the "Baptist Bear." It was decided by the students that the "Bulldog" can eat more "Panther meat" next fall.
(Continued on page three)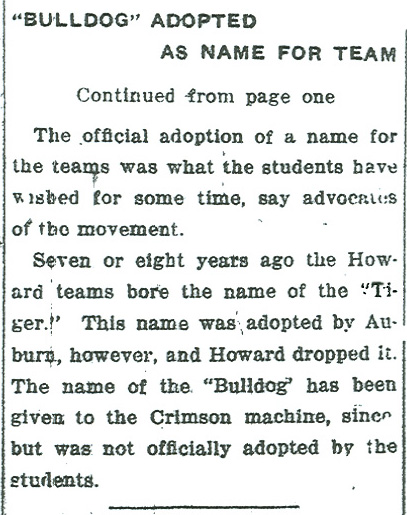 HEADLINE: "BULLDOG" ADOPTED AS NAME FOR TEAM
Continued from page one
The official adoption of a name for the teams was what the students have wished for some time, say advocates of the movement.

Seven or eight years ago the Howard teams bore the name of the "Tiger." This name was adopted by Auburn, however, and Howard dropped it. The name of the "Bulldog" has been given to the Crimson machine, since but was not officially adopted by the students.
Resources
December 14, 1916, Howard Crimson.
1912 Entre Nous.
Willoughby, Avalee. Athletics at Samford University 1900 - 1970.