Special Collection Treasures
Published March–April 2010 by Jennifer Taylor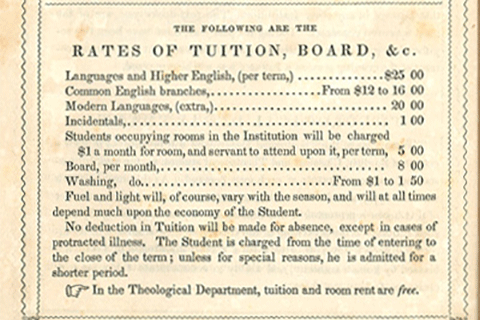 The 1845 Howard College catalog lists a tuition price of $25.00 per term. For those studying Theology, classes were free. There was 1 ten month session each year which was divided into 2 terms of five months each. Students had a week off for Christmas and were home for the months of August and September.
The 1886/1887 academic year was the last one Howard College spent at the campus in Marion. By this time, tuition had increased to $85 per term. However, Theological students could still study for free if they were licensed by their church.
By the 1886/1887 academic year Howard students had a dress code. They were asked to bring "a good supply of underclothing, but only one suit of outer wear."
Vacation had also changed by this time. Students no longer had a week off for Christmas vacation. Instead they were asked to remain on campus and were only given Christmas day off from classes.
Resources
Garrett, Mitchell Bennett. Sixty Years of Howard College 1842 - 1902
Samford University Catalogs