The University Library will be closed Monday December 11 due to utility work. For assistance call 205-726-2196 or
Contact Us online
. We reopen Tuesday, December 12 at 7:30 AM.
Special Collection Treasures
Published on March 2, 2011 by Jennifer Taylor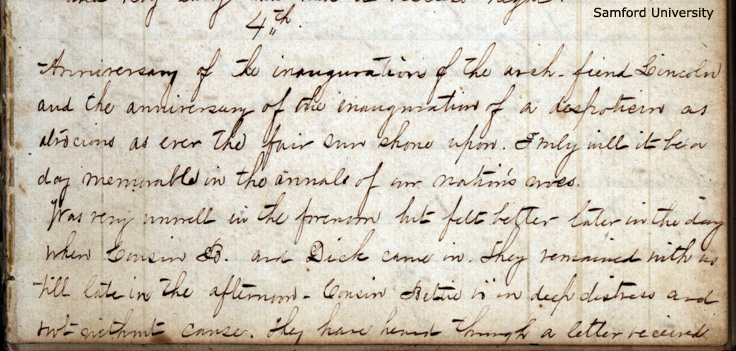 2011 is the sesquicentennial anniversary of the American Civil War.
On March 4, 1862, a young woman in Virginia wrote that it was the, "Anniversary of the inauguration of the arch-fiend Lincoln and the anniversary of the inauguration of a despotism as atrocious as ever the fair sun shone upon." And wondered, "Truly will it be a day memorable in the annals of our nation's woes," in her diary.
Recorded below in the Journal of the Convention of the People of the State of Alabama 1861 is the vote, which took place on January 11th, for Alabama to secede from the Union. The Ordinance of Secession was passed with 61 ayes and 39 nays. In doing so, Alabama joined South Carolina, Mississippi, and Florida in seceding from the Union.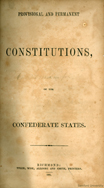 In March of 1861, the Constitution of the Confederate States of America was unanimously adopted by the Confederate Congress in Montgomery, Alabama.
When the war broke out in April of 1861, sixty-two students were enrolled at Howard College in Marion, Alabama. After the attack on Fort Sumter, 40 of the students left classes to enlist with Confederate military companies. President Thornton also resigned from the school and formed the, "Independent Volunteers," a company composed of Howard students and other boys from around Marion. Due to health reasons, Thornton was again back at Marion for the following semester. During the first summer of war, Company C of the 20th Alabama Confederate Regiment used Howard's campus for drills before heading to Montgomery in September 1861.
In May of 1863 the Confederate Government petitioned Howard College to use two of it's dormitories for hospital purposes. During that time, regular class exercises were suspended. The hospital log used at Howard College during this time is pictured below.
The First Alabama was an Alabama regiment comprised of approximately 2000 Unionists in northern Alabama. At the age of 19, McWhirter was assigned to the army in Tennessee where he served under Major General U. S. Grant. Later, he served under General Sherman in Mississippi. After the war, he returned to his home in Marion County, Alabama.
Resources
Buck Collection, SC 5775 Box 1 Folder 2
England, Annie D., A Compilation of Documented Information about the Confederate Hospital in Marion, Alabama, May 20,1863 - May 20, 1865
Garrett, Mitchell Bennett, Sixty Years of Howard College, 1842 - 1902
Lancaster, James Dean, Howard College During the Civil War and Reconstruction, 1860 - 1873
McWhirter Collection, SC 4547