Special Collection Treasures
Published on November 16, 2011 by Jennifer Taylor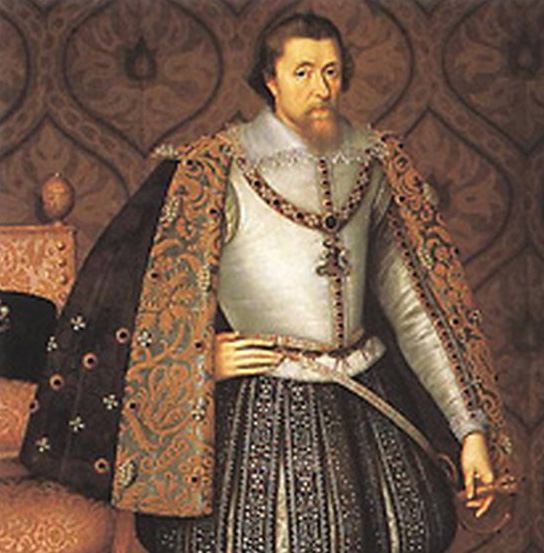 The Authorized Version of the Bible, commonly known as the King James Version (KJV), was commanded by King James VI & I in 1604 at Hampton Court and was completed in 1611 by 47 scholars. After 4 centuries, the KJV still stands as one of the great achievements in the English language.
The original 1611 translation has been nicknamed the "He Bible." The name is taken from Ruth 3:15. It ends with, "and he went into the citie." By 1613 another edition had been published and the "he" had become "she."
Over the years, there have been many editions of the King James Bible. The one most often used and recognized today as the KJV wasn't published until the later part of the 18th century.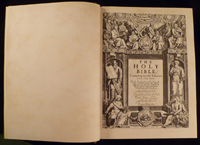 The title page of the original King James Bible was done by Cornelius Boel. It depicts, all twelve Apostles plus Moses, Aaron and the Holy Trinity.
There are an estimated 200 remaining volumes of the 1611 "He" Bible and an estimated 500 remaining 1613 "She" Bibles. The Samford University Library houses a special edition facsimile of the 1611 Bible which was published in 1965.
Resources
The Holy Bible, Conteyning the Old Testament and the New: Newly Translated Out of the Originall tongues, & With the former Translations Diligently Compared and Revised by His Maiesties Special Comandement: Appointed to be Read in Churches. Cleveland: World Pub. Co., 1965.
Daiches, David. The King James version of the English Bible. Hamden, Conn: Archon Books, 1968.
Hamlin, Hannibal and Norman W. Jones. The King James Bible after 400 Years : Literary, Linguistic, and Cultural Influences. Cambridge; New York: Cambridge University Press, 2010.