The University Library will be closed Monday December 11 due to utility work. For assistance call 205-726-2196 or
Contact Us online
. We reopen Tuesday, December 12 at 7:30 AM.
Special Collection Treasures
Published on September 13, 2016 by Becky Hyde
Here at Samford we're getting ready to celebrate the 175th anniversary of the founding of our university. As we welcome our students back to campus for the biggest incoming freshman class yet, we look back to our very first students.
Samford University began its life as Howard College. Howard was awarded incorporation in December 1841 and began its first session January 3rd 1842 with 9 students enrolled. By the end of the session in June the school was up to 31 students enrolled.
We are able to track these events through matriculation records; records kept by the school administration to keep track of each student's enrollment. We are very fortunate to have the very earliest matriculation records from Howard College's start. Not only has it been 175 years, but early in Howard's history there were two devastating fires that these books managed to survive.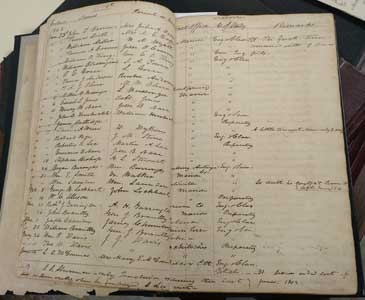 These records kept different information over time but usually included the student's name, parents, date of entry, and hometown. Some of these entries also have notes about the students in them, often the date the student left if they did not finish their course. On the very first page William Saunders from Guntersville, Alabama who began schooling at Howard College January 31, 1842 has a note that states "So dull he couldn't learn + left May 16."
The records became less detailed during the years of the Civil War and those immediately following. Time, resources, and number of students were drastically lower during the war years. Despite this, Howard/Samford has been open continuously for 175 years save for a few months in 1863 during the Civil War.
---
Resources
SC 856 Howard College Matriculation Record January 1842 – July 1887