The University Library will be closed Monday December 11 due to utility work. For assistance call 205-726-2196 or
Contact Us online
. We reopen Tuesday, December 12 at 7:30 AM.
Special Collection Treasures
Published on June 28, 2016 by Becky Hyde
Samford's president Andrew Westmoreland sends a weekly email out to all students, faculty, and staff, known as the Monday Mission. On June 6th his Monday Mission included a letter written by Mrs. Gene Zeiger to her five children about their father, Evan.
Evan Zeiger (June 20, 1921-August 30, 2009) worked at Samford for many years in many different capacities. He started as Business Manager of Howard College in 1956 where he served until 1968 when he became Vice President for Financial Affairs, a posting he held until 1983. He added on a second position in 1969 when he additionally became the Athletic director until his retirement in 1984. A trained engineer, he was instrumental in the move of Howard from the East Lake campus to today's location.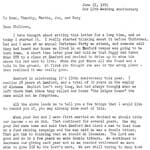 Letter written by Mrs. Gene Zeiger to her 5 children on the occasion of her and Evan's 45th wedding anniversity, dated June 15,1991. The letter ends with her stating, "I plan to give a copy of this letter to you on your Dad's 70th Birthday celebration."
Though the Zeiger house no longer stands, Samford is grateful for the faithful service of H. Evan Zeiger Sr. and the Zeiger name won't soon be forgotten.
---
Resources
Samford University Special Collection
Letter to Children. SCB 3983, Folder Z
Bio sketches from Public Relations Office – ABSC. SCB 3671-Folder Y-Z
Family Photograph, 1971. SCAV 1065, Families, VM 23,070
Photograph. SCAV 1065, Zeiger, Evan, VM 27,557
"Remembering Former Vice President H. Evan Zeiger" (September 9, 2009) The Belltower, Samford University Vertical File