The University Library will be closed Monday December 11 due to utility work. For assistance call 205-726-2196 or
Contact Us online
. We reopen Tuesday, December 12 at 7:30 AM.
Special Collection Treasures
Published November 21, 2017 by Becky Hyde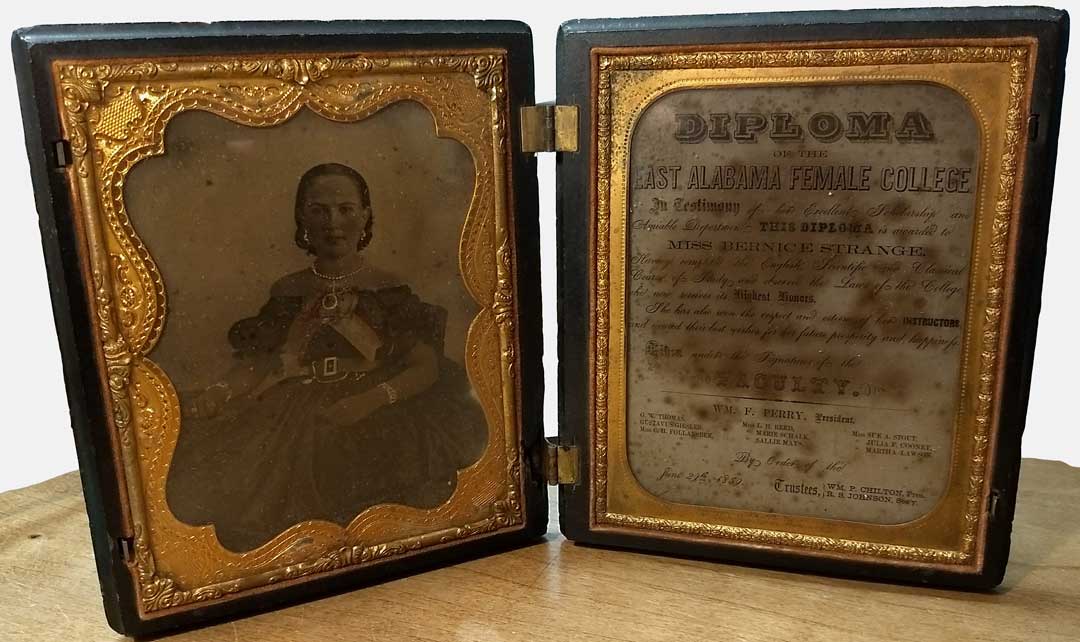 These ambrotypes are a portrait of Bernice Strange and her diploma from East Alabama Female College. They were taken in 1859. An ambrotype is an early form of photography.
The very first type of photography was the daguerreotype. Invented by Louis-Jacques-Mandé Daguerre and spread worldwide in 1839. This first photo-capture was developed onto a shined silver surface. Because the pictures were on silver, they were subject to tarnish and easily smudged by clumsy fingers. To protect them, they were kept behind glass.
The next phase of photography was the ambrotype (1855-1865). Rather than being developed onto silver they were developed onto glass plates that were painted black on the opposite surface. These images were still kept in the traditional hinged cases with glass protection even though they were a photographic emulsion developed onto glass. Being on glass they are still somewhat reflective, but much less so than the "shiny mirror" surface of the daguerreotype. If you take an ambrotype out of a case and hold it up to the light you can usually see through the picture (since it's on glass). This is how it was determined that these photographs are, in fact, ambrotypes. By looking closely at her dress, the back of the plate is visible. Ambrotypes do not tarnish like sliver daguerreotypes; but, the black paint on the back of the glass often dries out, cracks, and peels off. A common problem with this type of photography is when the emulsion turns dark, the image will also look dark.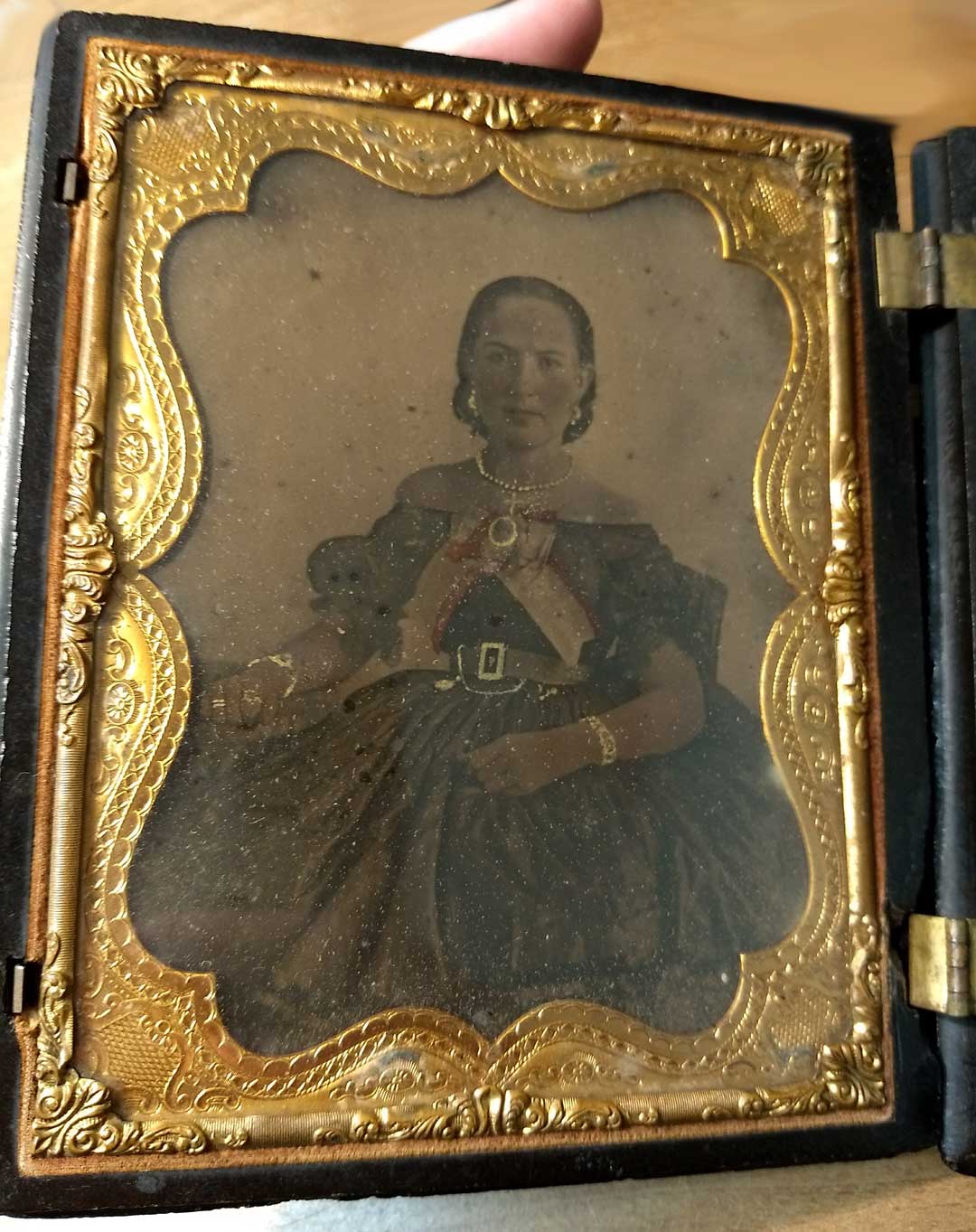 Hand-colored ambrotype of Bernice Strange. Gold paint adorns her jewelry to really make it shine.
Not much is known about Bernice Strange, but her clothing is a typical style for her time. She was likely to have been wealthy because her portrait was made and she was able to go to school to earn a diploma. Photography was still a complicated and expensive process in 1859 so this picture set is an interesting resource for the study of 1850's photography and society.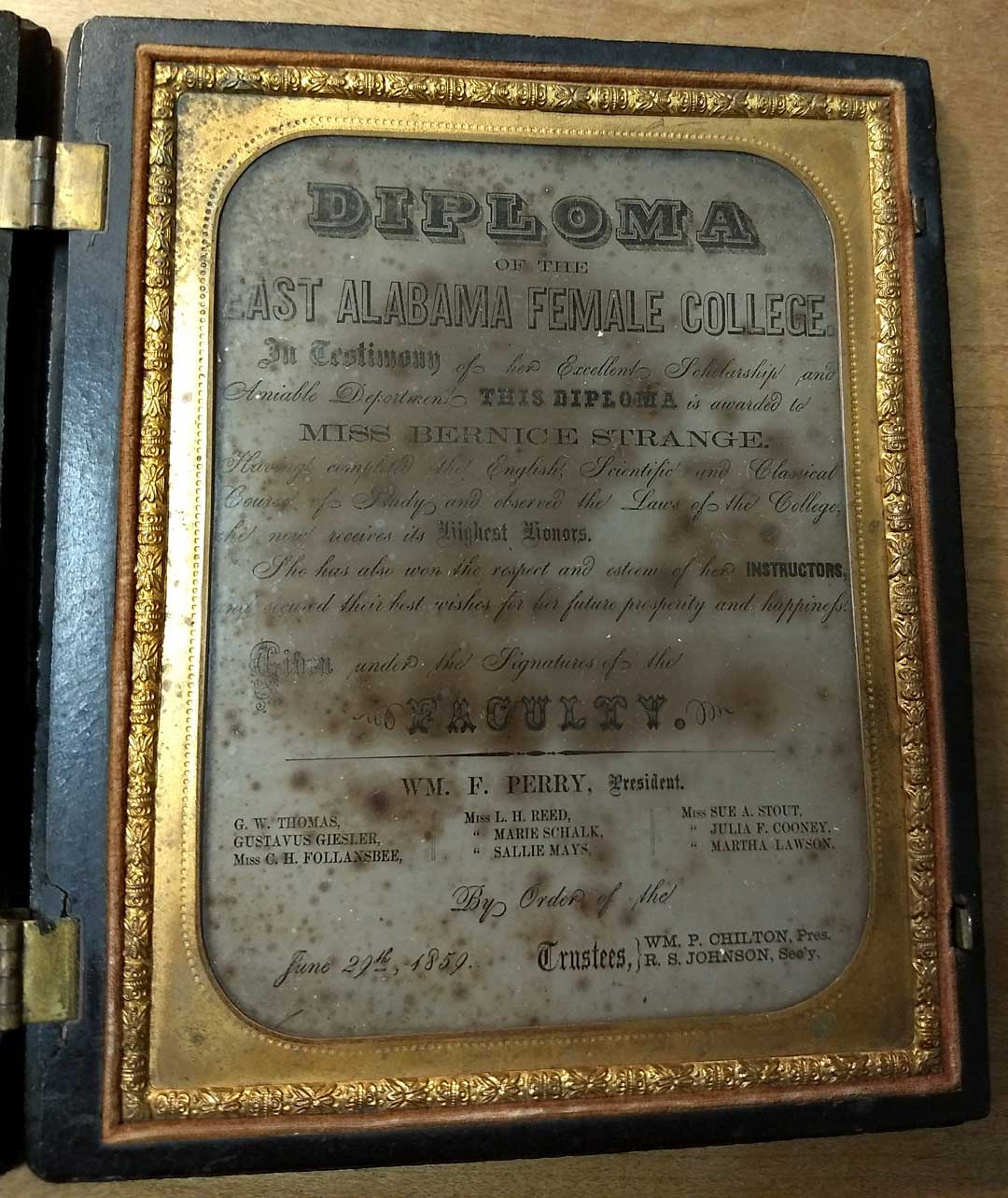 The Diploma Reads: Diploma of the East Alabama Female College. In Testimony of her Excellent Scholarship and Amiable Deportment This Diploma is awarded to Miss Bernice Strange. Having completed the English, Scientific and Classical Course of Study and observed the Laws of the College, she now receives its Highest Honors. She has also won the respect and esteem of her Instructors and secured their best wishes for her future prosperity and happiness. Given under the Signatures of the Faculty. WM. F. Perry, President. G.W. Thomas, Gustabus Giesler, Miss C.H. Follansbee, Miss L.H. Reed, [Miss] Marie Schalk, [Miss] Sallie Mays, Miss Sue A. Stout, [Miss] Julia F. Cooney, [Miss] Martha Lawson. By Order of the June 29th, 1859 Trustees,} WM. P. Chilton, Pres. R.S. Johnson, Sec'y.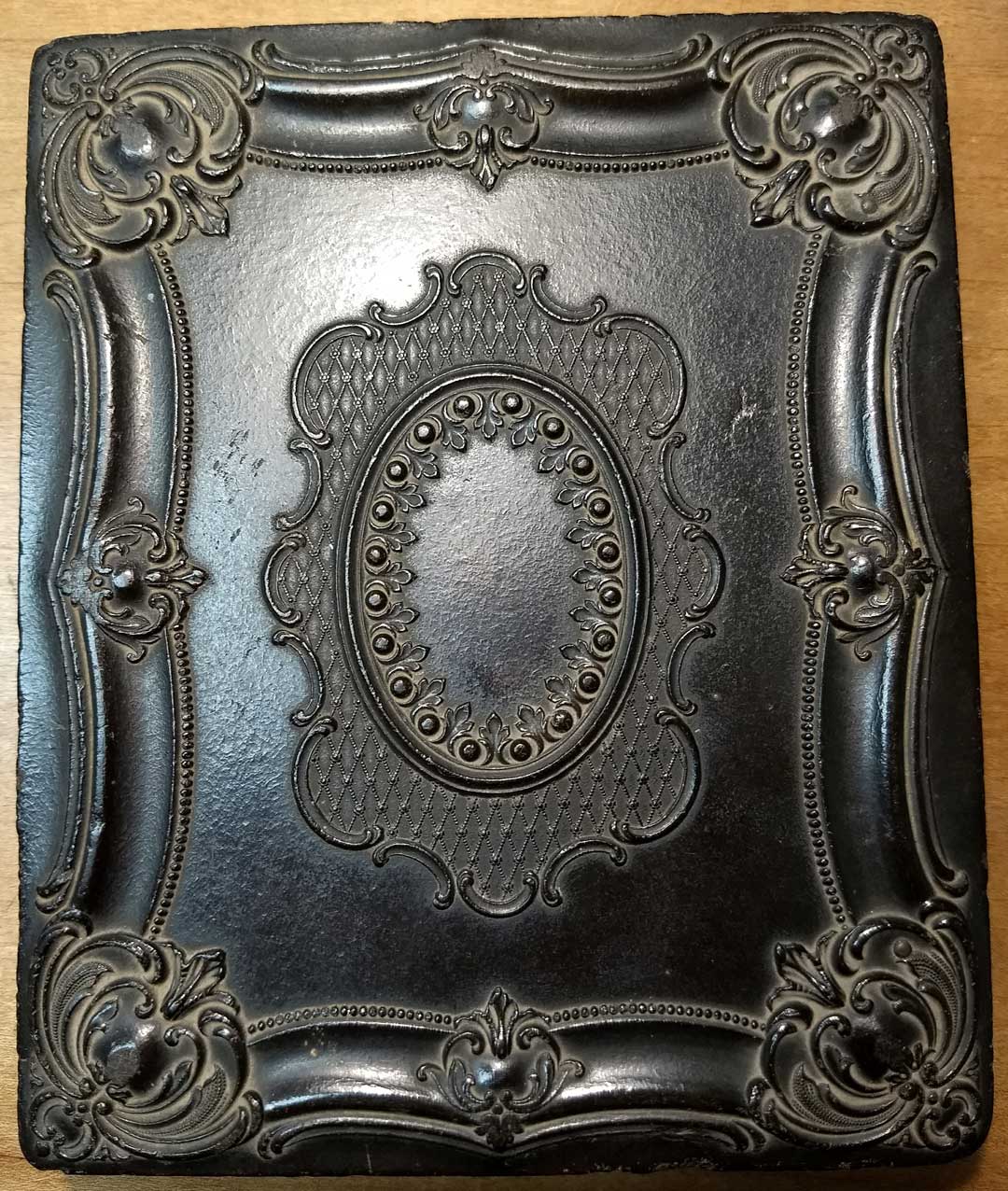 The case is not the typical wood and leather case you might expect to find on an object from this period. The "gutta-percha" or "Union Case" was actually an early thermoplastic. Made by mixing shellac and wood fibers then pressing that into a steel mold, this case has been proven to be incredibly durable. Minus one broken hinge, at 158 years old, the case is in very solid condition.
Resources
SCAV 1011 Bernice Strange Photograph and Diploma, Samford University Special Collection
The Daguerreian Society. "Facts about Daguerreotypes." Last modified 2016. Accessed November 17, 2017. http://www.daguerre.org/?page=DagFAQ