The University Library will be closed Monday December 11 due to utility work. For assistance call 205-726-2196 or
Contact Us online
. We reopen Tuesday, December 12 at 7:30 AM.
Special Collection Treasures
Published on February 11, 2020 by Becky Hyde; James Aldridge, contributor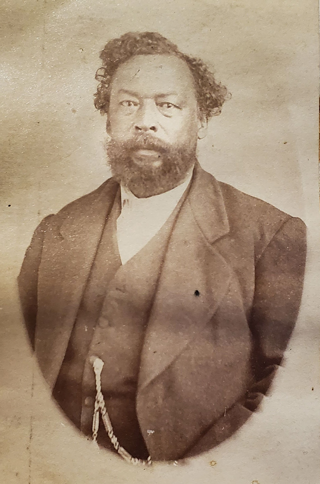 Benjamin Sterling Turner (1825-1894) was the first African-American elected to represent Alabama in the United States Congress. Elected March 4th, 1870, he served in the 42nd Congress from 1871-1873.
Turner was born into slavery on March 17, 1825 in Weldon, North Carolina. When Elizabeth Turner, his widowed owner, moved to Selma In 1830, Benjamin Turner moved to Alabama. It is likely, considering his interactions with the Turner children, he received his education through them. By the age of 20, Benjamin was able to read, write, and keep financial accounts. In 1845, Mrs. Turner sold Benjamin to her son-in-law, Major W. H. Gee, in order to pay off debts. Benjamin Turner was installed as the manager of the Gee House Hotel in Selma, AL. The hotel remains in Selma today in 2020, but it is now known as the St. James Hotel. While managing the hotel, Turner also worked independently as a woodcutter. It was during his time as a woodcutter that Turner was able to amass a small savings. Upon Major Gee's death, Benjamin Turner was willed to Dr. James Gee where Turner was again positioned with the responsibility of managing the hotel. While working as the hotel's manager, Turner married a fellow enslaved woman named Independence, and together they had one son, Osceola. His marriage was soon torn apart when his wife was sold.
In April 1865, Union troops captured Selma. Benjamin Turner was freed after the Emancipation Proclamation was delivered, but he lost much of his savings as a result of the Union troops burning over two thirds of Selma. During Reconstruction, Turner became a successful business man. He opened a livery stable, worked both as a farmer and merchant, and founded a school for the black children in Selma.
During the second half of the 1860s, Turner held several local political offices, and in 1870 he ran on the Republican ticket for the Alabama First District seat in the U.S. House of Representatives. This area included Selma and a large piece of the Black Belt. With his platform of "Universal Suffrage and Universal Amnesty", he defeated his white, Democrat opponent to become the first African-American Representative from Alabama. He spent much of his time in Congress trying to secure financial assistance for Alabama to aid in recovery from the devastation of the U.S. Civil War. He supported financial reparations for freedmen and the desegregation of schools. He also supported universal amnesty for all former Confederates, favoring a forgiveness as a path to peace.
During his time in the U.S. House of Representatives, Turner was not able to pass any large pieces of legislation. His refusal to appoint political allies to important positions damaged his support in his district. He also faced criticism from prominent black leaders in his district who saw his lack of formal education and his profession as a liability. Instead of supporting Turner for re-election, many people backed freeborn newspaper editor Philip Joseph, effectively splitting the vote. The district seat was won by Democrat and Liberal Republican Frederick G. Bromberg. Bromberg received 44 percent of the votes, Turner received 37 percent, and Joseph received 19 percent.
After the election, Turner returned his attention to his farm. He was elected to Selma City Council in 1885. Though, he only sought a single term, vying not to run for re-election. He participated as an election official for municipal elections in the 1870s and 1890s. Turner also served as a delegate to the Republican National Convention in 1880.
Misfortune struck Turner during the latter half of the 1800s. He lost his horse livery business during an economic downturn in the late 1870s. At that time, he turned his attention to focus solely on farming. He died in 1894 in poverty and was buried at the Live Oak cemetery in Selma.
Resources
SCAV 1341 A.C. Oxford Album, Brantley Collection, Samford University Special Collection.
Derbes, Brett J. "Benjamin S. Turner." Encyclopedia of Alabama. Last modified November 5, 2018. Retrieved from http://www.encyclopediaofalabama.org/article/h-3271.
"Historical Highlights Representative Benjamin Turner of Alabama March 17, 1825." History, Art, and Archives, United States House of Representatives. Retrieved from https://history.house.gov/Historical-Highlights/1800-1850/Representative-Benjamin-Turner-of-Alabama/.
"TURNER, Benjamin Sterling." History, Art, and Archives, United States House of Representatives. Retrieved from https://history.house.gov/People/Detail/23140.