The University Library will be closed Monday December 11 due to utility work. For assistance call 205-726-2196 or
Contact Us online
. We reopen Tuesday, December 12 at 7:30 AM.
Special Collection Treasures
Published on June 4, 2020 by Becky Hyde; James Aldridge, contributor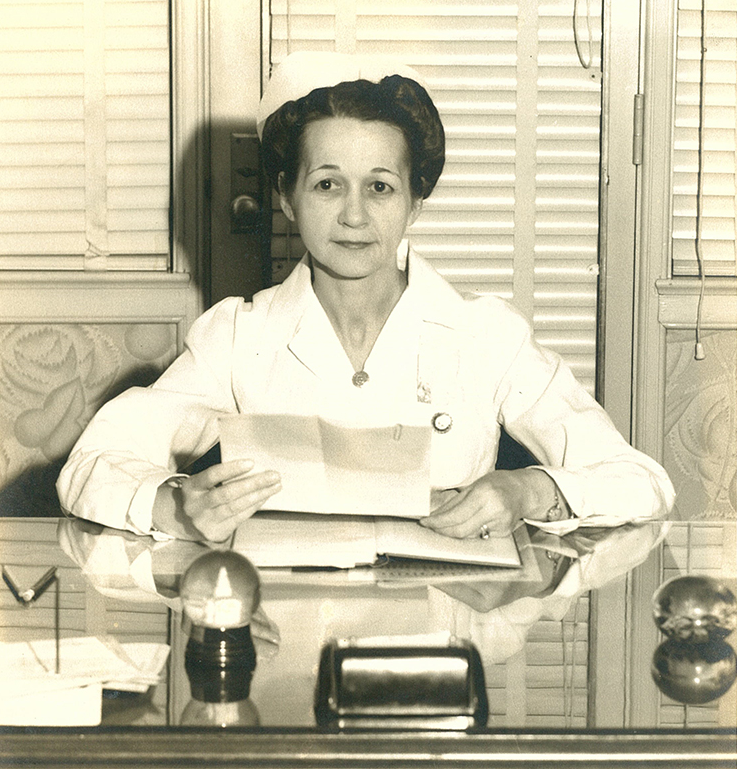 Nursing in Alabama cannot be discussed without mentioning Ida Vines Moffett (1905-1996). For more than 70 years, Ida V. Moffett was a practicing nurse with a passion for patient care and an unyielding advocate for nursing education.
Ida Vines was born April 9, 1905 in Toadvine, Alabama. After graduating from Alliance High School in 1923, she immediately enrolled at the Birmingham Baptist Hospital School of Nursing, founded only one year before in 1922. After completing the required 1,095 days of hands-on-training in the hospital setting, she graduated in 1926. She then passed the state examination to become Alabama Registered Nurse number 1830. Showing incredible talent from the start, she began working as a private duty nurse at the Baptist Hospital but was soon sent by local physicians to do a year of postgraduate study. In 1927 she studied orthopedic nursing at The University of Iowa Hospital, and then she studied surgical nursing at The University of Cincinnati. In 1928 she returned to Birmingham and accepted a post as an operating room supervisor at the Birmingham Baptist Hospital. On June 29, 1929, she married electrician Howard Moffett, and the couple moved to Atlanta where she worked as a private nurse.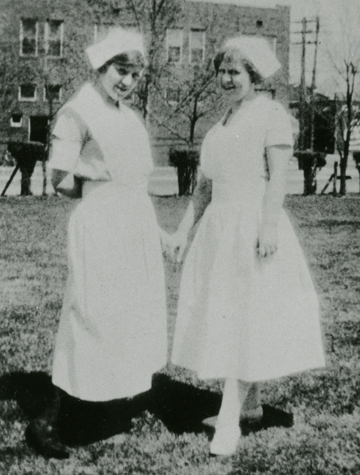 In 1934, the couple returned to Birmingham where Ms. Moffett took a position as the head nurse at Highland Avenue Baptist Hospital-the second branch of the Birmingham Baptist Hospital system. From this point, she continued to spread her passion for nursing education. In September 1941, she became Director of Nursing for the Birmingham Baptist Hospital, Highland Avenue Baptist Hospital, and the Birmingham Baptist School of Nursing. In 1943, she organized the Cadet Nurse Corps-a federal program designed to fill in a shortage of nurses and the first of such programs in Alabama. At the same time in which she was establishing this program, she oversaw the construction of a second building for the nursing program. In 1946, she attended the first national conference of nursing organizations where she became devoted to the idea that nursing education should be incorporated into university curricula rather than a lone program. Later that year, she was appointed to the Alabama State Board of Nurses' Examiners and Registration committee by Governor Chauncey Sparks. At the very first meeting, she was elected as chair. In this role, she led the implementation of 1945 legislation for licensing practical nurses.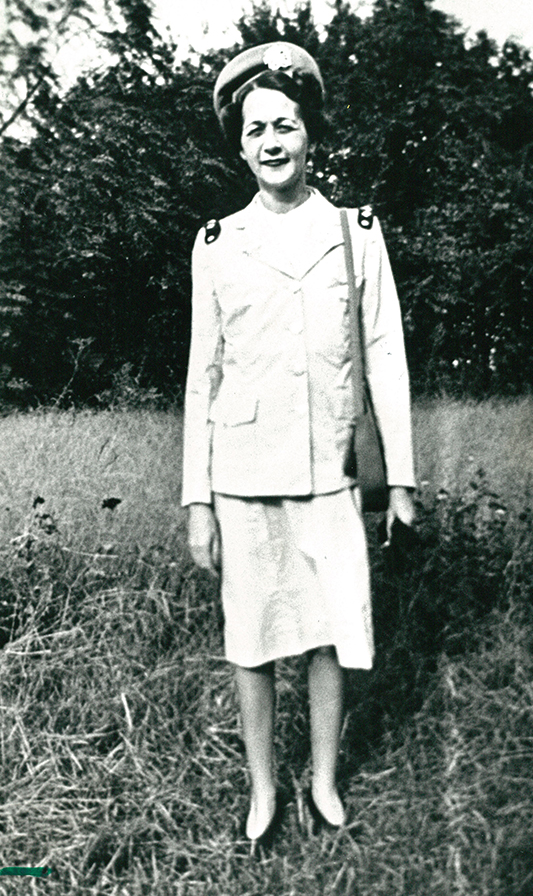 Moffett was the driving force for the establishment and accreditation for several nursing programs that were the first of their kind in Alabama: the first four-year collegiate nursing program at Tuskegee University, the first training program for licensed practical nurses at the Baptist Hospital in Gadsden, Alabama, and accreditation by the National League of Nursing for The Birmingham Baptist Hospital School of Nursing. In 1948, she served on a committee of the Alabama State Nurses Association that guided The University of Alabama in both starting a school of nursing and selecting its first dean.
For the following 10 years, Moffett served an appointment to the first state licensing board for hospitals and health-care institutions. In 1953, she helped found the Birmingham Regional Hospital Council, won the honor of Birmingham's Woman of the Year, and accepted a 10-year term to serve at the national level on the Board of Review for Accreditation of Associate and Diploma Degree schools of nursing. In 1961, she received an appointment to the U.S. Surgeon General's Consulting Group on Nursing-a committee dedicated to determining the adequacy in numbers and quality of nurses in the United States.
In 1968, the Board of Trustees for the Baptist Medical Centers of Birmingham renamed the Birmingham Baptist Hospital School of Nursing in honor of Mrs. Moffett. The Ida V. Moffett School of Nursing was transferred to Samford University in 1973 with the name intact to this day.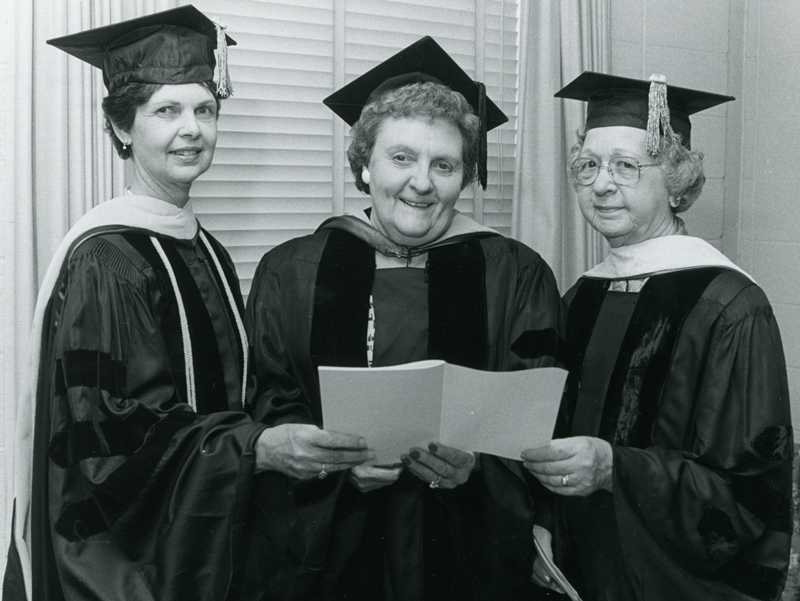 Moffett retired in 1970 but did not sit still for long. In 1978, she took a job with Brookwood Medical Center. In 1981, Moffett went back to Baptist Medical Centers as Chief of Nursing Emeritus. On top of consulting on corporate concerns, she used her status to advocate for better patient care and continued to make daily rounds until she was nearly 90 years old. During her 70 years in the nursing profession, she earned many accolades including being among the first to be inducted into the Alabama Health Care Hall of Fame and was a 2001 inductee into the Alabama Nursing Hall of Fame. She died on November 17, 1996, but her incredible legacy of compassion, dedication, and love for nursing have never been forgotten.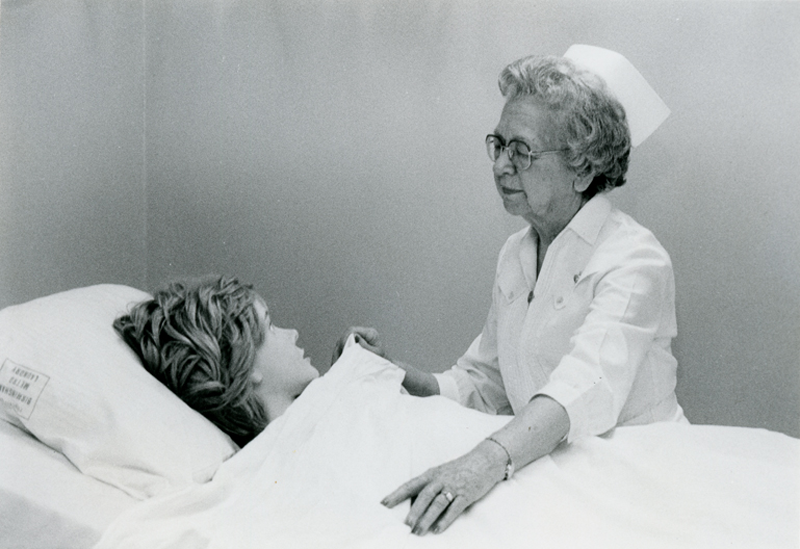 Resources
Allen, Lee and Catherine Allen, "Ida Vines Moffett," updated August 17, 2015, http://www.encyclopediaofalabama.org/article/h-1193.
"History," Samford University Ida Moffett School of Nursing, accessed May 22, 2020, https://www.samford.edu/nursing/history.
"Ida V. Moffett," The University of Alabama Captstone College of Nursing, accessed May 22, 2020, https://nursing.ua.edu/?page_id=3543.
"Ida Vines Moffett (1905-1996), Alabama Women's Hall of Fame, accessed May 22, 2020, http://www.awhf.org/moffett.html.
"Mrs. Moffett's Legacy," Samford University Ida Moffett School of Nursing, accessed May, 22, 2020, https://www.samford.edu/nursing/mrs-moffetts-legacy.