The University Library will be closed Monday December 11 due to utility work. For assistance call 205-726-2196 or
Contact Us online
. We reopen Tuesday, December 12 at 7:30 AM.
Special Collection Treasures
Published on December 14, 2016 by Becky Hyde
Howard College was formally incorporated on December 29, 1841.
The success of the Judson Female Institute established in Marion in 1838 prompted several influential Baptists to start a male college counterpart.
One of these influential individuals was Reverend James DeVotie of Siloam Baptist Church in Marion. He brought this issue to the Baptist State Convention in November 1841. There he proposed to the committee on education a gift of property on the condition that a male college be established in Marion under the convention's patronage. After some spirited debates and the addition of several amendments, the Convention voted in favor of the development of a male school.
Wasting no time, by the end of the following month, The Board of Directors for the Convention had the school chartered on December 29, 1841 with the ownership and control lying with the Convention.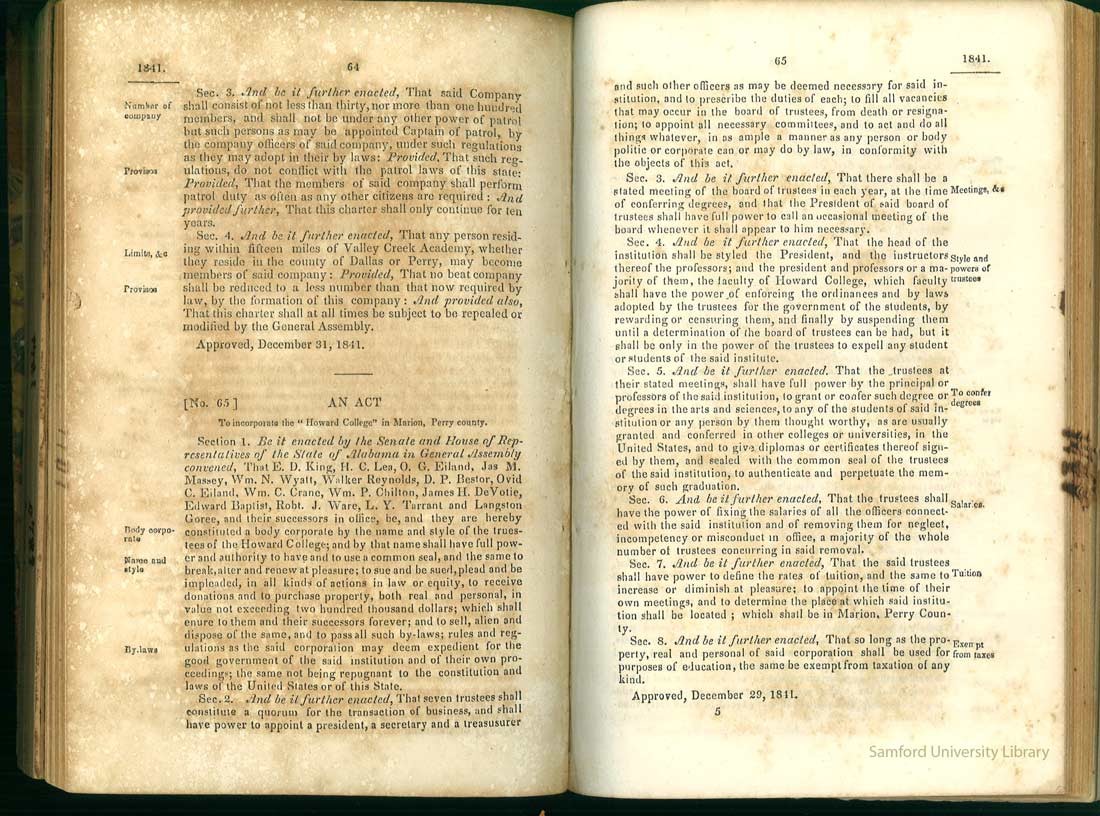 By January 3, 1842 the school opened with 9 students under the leadership of Samuel Sterling Sherman. According to the matriculation record, by the end of the first session in June, the student body had 33 students. Happily, the school has survived two fires, two new cities, and 175 years of scholarship. The school has continued to grow into the Samford University we know and love today.
For more information on the beginning of Howard College please see some of our previous Treasures:
Resources
Acts Passed at the Annual Session of the General Assembly of the State of Alabama. Tuscaloosa, AL: Hale & Eaton, 1840.
Reid, Avery Hamilton. Baptists in Alabama. Montgomery, AL: The Alabama Baptist State Convention, 1967.
Riley, B. F. A Memorial History of the Baptists in Alabama. Judson Press, 1923.
Sulzby, James F. Jr. Toward a History of Samford University. Birmingham, AL: Samford University Press, 1986.